Fran Scibelli Adheres to Her Own Palate
Fill up at Fran's
by Courtney Mihocik
Fran Scibelli constantly thinks about food. And as the owner of Fran's Filling Station, that's a good thing.
She was once a white collar criminal defense attorney in Washington, D.C., but thought, mid-divorce, that she should do the thing she thought she would love the most. Her brother was already in the restaurant industry in Charlotte and she had a friend in D.C. who quit her job to start a catering business. She's always loved food, and the idea intrigued her, so she decided to open a restaurant.
After looking through the restaurant space available in and around the nation's capital, she figured it would be less expensive to operate in Charlotte instead. Rightfully so, as this city had more space for her vision of food.
"I thought, 'You know what? I could do it a lot more inexpensively in Charlotte,'" she said. "And I thought it would be better to be a bigger fish in a smaller pond."
She first opened the beloved Metropolitan Café, then Metropolitan Bakery, but those soon gave way to Fran's Filling Station. Situated in the Dilworth neighborhood, the restaurant opens in a comfortable front dining room with a bar before leading guests to a taproom in the back, which features a large cooler that's tapped on one side with local craft beers next to more low-top tables. The patio outside invites guests to soak up sun and food while enjoying the potted flowers that adorn the low brick wall that encloses the space. The entire atmosphere is clean and comfortable; much like a home ready to host dinner guests.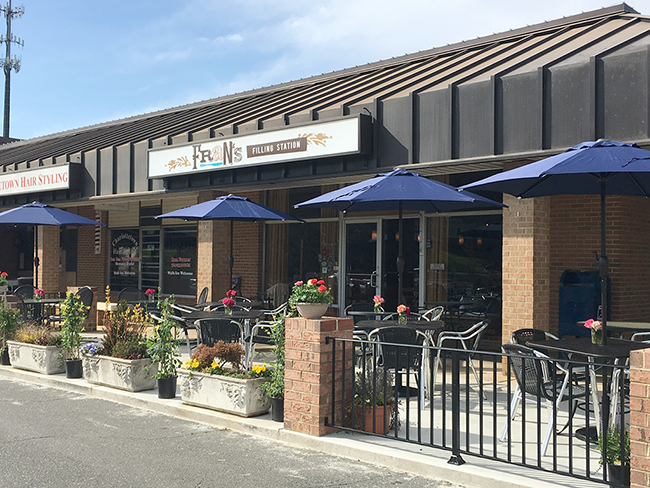 The front patio of Fran's Filling Station, where Fran will hold the First Annual Community BBQ on Sept. 29. (Photo courtesy of Black Wednesday Photography)
"I'm very particular about how clean it is, because people want to eat in a clean restaurant. They think clean extends to the kitchen, which of course it does," Scibelli said of her restaurant's particular ambience. "You know, it's like inviting people into my house. I want them to have a great experience."
And since it's her house, she serves her food. Not only is everything on the menu created from scratch, but all of the dishes are recipes that she finds intriguing or that she herself would eat. She stated that she wouldn't put anything on the menu that she wouldn't eat herself. Her particular style and taste is in everything, and she works to ensure it's perfected in the kitchen.
"All I can say about the food here is it's my particular taste," she stated. "You know, other people might like it differently, but this is how I like it."
But that's not to say she doesn't dish out popular and tasty recipes that she creates with a lot of research.
As a woman with a master's degree in history and a law degree from Stanford, she knows how to research. While reading every recipe she can get her hands on, she picks particular techniques and measurements to make her own. Or she takes the meals that her mother made and tweaks them, adding her own perfecting touches.
For example, Fran's meatball recipe is one that she grew up watching her mother make, but then changed when rolling it out in the kitchen and on to customer's plates.
"That's an example of something where I watched my mom make them, but then I did a lot of reading and I read something very specific about a technique [in making meatballs]. I implemented that technique in my meatballs; so it's partly my mother's, it's partly something I read. And honestly I think they're better than my mother's," Scibelli said with a laugh.
Scibelli serves her better-than-mom's meatballs with a housemade pomodoro sauce and cheesy orzo or braised greens. She tried rigatoni and spaghetti in the past, but orzo is what she likes best and intrigues her the most, so that's what she serves.
Most of her recipes have been on the menu for years, or have been brought back with slight alterations, but that doesn't mean the selection of fare remains stagnant. Every day, Fran's Filling Station offers different options of specials. When Creative Loafing stopped by, the daily specials included chicken diavolo — a crispy, spicy chicken that traditionally marinades for up to a day in a sauce of jalapenos and chiles — and shrimp scampi, a classic seafood and pasta dish of Italian heritage.
Chinese chicken salad. (Photo courtesy of Black Wednesday Photography)
But Scibelli said some of the most popular dishes on her menu are the burgers. Each one is a masterpiece of condiments and protein, stacked neatly on top of one another, and in a very particular order. There's the classic lettuce-tomato-pickle-onion combination that a diner can choose, or it's possible to adventure outside the conventional ideas of what a burger is and try the Mediterranean option, which has tomato chutney, tzatziki sauce and carrot salad.
As she described various dishes that include ingredients and toppings like pepper jelly, goat cheese or bacon wrapped tater tots, it was hard to not want to try it all.
"Even though this is a casual restaurant, there's nothing on the menu I don't try to make absolutely delicious," Scibelli stated.
Another delicious creation on the "Fran's Favorites" menu is the salmon and succotash. It's easy to see why, as Scibelli scours the farmers markets for fresh vegetables three times a week.
"I go to the big one a lot on Saturday morning, the Mecklenburg Market," she said, listing off the markets that she hits for fresh produce. "And I go a lot to Simpson's [Produce]. I've known those guys for more than 15 years, and they have some stuff that they buy, but they have a lot of local produce, too. Their corn is really good, their tomatoes are great. [I get] zucchini, I get lima beans shucked already, fresh limas, which are really good."
The upscale atmosphere of Fran's Filling Station may seem like a typical place to eat and have a couple of drinks, but really, it's relaxed and it's about bringing people together.
A couple years ago, she was speaking with a health inspector and asked if she could use the patio space outside to set up a grill and sling barbecue food to guests straight from the flames.
Unfortunately, it's against health code to serve people in that manner, but the health inspector did tell her it's OK to serve dogs. Thus, Scibelli decided to throw a barbecue for the four-legged friends of her guests, an End of Summer Community BBQ planned for Sept. 29 at 5 p.m.
"I don't even have a dog," Scibelli chuckled. "But it was this idea of just bringing people together. This is really a neighborhood restaurant, or I like to think of it as a neighborhood restaurant. We have so many people who walk here, lots of people who bring their dogs and sit outside." Thus the first annual dog-friendly community barbecue was created in the food-centric mind of Scibelli.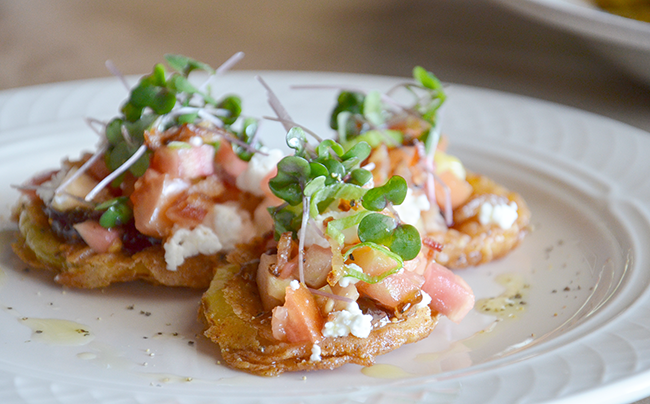 Fran's fried green tomatoes. (Photo courtesy of Poprock Photography)
But she won't just throw on some chicken and pork. Like the rest of her menu, she's taking the time to create a recipe batch for the lovely canines of attendees. So far, she has decided to take her veggie burger recipe, which has quinoa, beans and vegetables, and add brown rice. But this is subject to change up until the day of the barbecue.
As for the humans, she's switching up the menu that night. As of Creative Loafing's press deadline, the details of her barbecue menu aren't finalized, but Scibelli said it's not going to be the classic burgers and hot dogs.
"I mean burgers and hot dogs are great, but probably barbecue chicken would be nice and something vegetarian too, for sure," Scibelli said. "But really it's more about the community at this point."
The only details she has hammered out is the music. Local singer/songwriter Taylor Winchester, is slated to play during the event. She usually has good tunes to accompany her good food. And like her dishes, she plays what she likes.
She tries to keep it fresh and fun, but she mostly enjoys '80s and '90s with Elvis Costello and Van Morrison thrown in, and Scibelli plays it loud.
"It's not just the food we want to be delicious, but I definitely want people to come and have fun here. I'm always evolving the music all the time," she stated with a sweet smile. "The music's pretty loud here. I definitely have people who ask me to turn it down and I will on occasion — but I won't on occasion. Friday and Saturday night, people are here to have a good time."
Fran Scibelli, owner and operator of Fran's Filling Station. (Photo by Andy McMillan)
Good times also include a favorable selection of wine, beer and cocktails. Every few months, Scibelli gets together with her bartender to design a new list of interesting cocktails. Right now, the cranberry apple Moscow mules are practically pouring themselves. She keeps the taps flowing with local beer like White Zombie from Catawba Brewing and a couple of Olde Mecklenburg Brewery selections.
She said she wants guests to try the different wines that she has picked out with her wine vendor. As a former consultant to Dean & DeLuca in Napa Valley, it's important to her when guests go outside of what they're familiar with as far as wine is concerned.
"If I'm behind the bar, not even bartending, but just behind the bar standing and talking to people, I will say, 'Well try this, I like this.' And then when they try it, then they'll be a little more adventurous."
But ultimately, the selection of wine, similar to everything else in her restaurant, are there because she likes them, and she wants her guests to like them, too.
And if they don't, that's fine. She's been in this business for a while and has thick skin. Ultimately, she will move on to the next food or drink idea that she fancies or captures her interest.
She hopes that you will like it, too.
VIA CREATIVE LOAFING