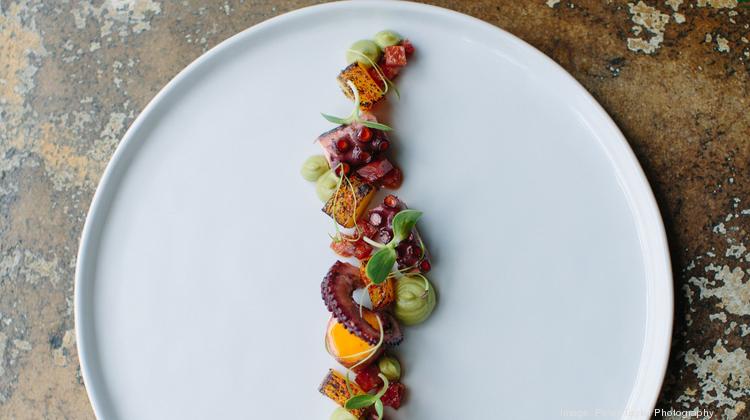 Bardo opened in South End in May 2018.
The owners of Bardo are reenvisioning that South End restaurant in the face of the Covid-19 pandemic.
Plans call for that restaurant to close on Sept. 26 for a revamp of its menu style and some interior updates. It expects to reopen on Oct. 2, says Jayson Whiteside.
He and executive chef Mike Noll invested $265,000 into that 52-seat restaurant, which opened at 1508 S. Mint Street in May 2018. 
But revenue is down between 55% and 60% — pressured by current public health restrictions that limit dining room capacity to 50%.
"The pandemic has really challenged us to think differently and to get creative, so we're taking that open mindset with us as we transition," Whiteside says.
Bardo delivers elevated and eclectic, chef-driven American cuisine in a small-plate format.
"It's been in our blood that we always want to innovate. We've celebrated great food and now we want to keep it moving forward," Whiteside says. 
Expect similar cuisine, but changes to the menu tied to ordering and how items are served.
"Dishes will remain creative, flavorful dynamic, but it'll be a new experience," he adds.
The duo recently opened sister restaurant Vana in South End. That $500,000 project was nearly a year behind schedule after financial issues followed by Covid-19 delayed plans.
click here to read original publication via Charlotte Business Journal