The Best of Beer, Wine, Cocktails, Nightlife, and Going Out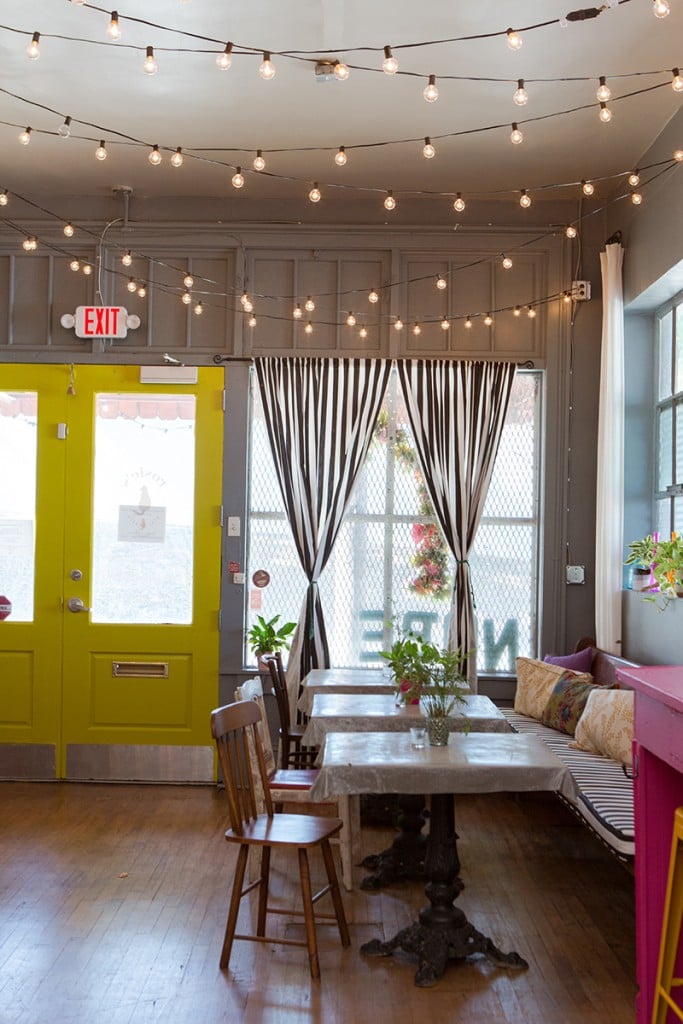 COZY SPOT FOR A DRINK
Rosie's Wine Garden at McGill Rose Garden
The uptown-adjacent McGill Rose Garden recently added a wine-beer concept that makes its 1.5-acre gardens even more inviting. With 20 wines and 11 beers available, Rosie's serves as an escape after viewing the garden Christmas lights during the winter or a summer haven with a glass of rosé. 940 N. Davidson St., rosieswinegarden.com
---
MIXOLOGIST
Amanda Britton
The Tiki-themed drink Stranded With Ginger is just one example of the Bardo mixologist's care for detail. The drink consists of (takes breath) Ron Zacapa 23 rum, Licor 43, Krupnikas, ginger, galangal, mint, molasses, cinnamon, coconut milk, and lime. It's not about the number or octane rating of ingredients, though. It's about the distinct flavor crafted by Britton, who sees potential in unexpected places. 1508 S. Mint St, bardorestaurant.com
---
DIVE BAR
Smokey Joe's Café
Ample space, a ping-pong table on sand, an outdoor firepit, an indoor waterfall, a roster of regulars, cheap beer, bar stools apparently made from railroad ties, and tenure (since 1984, which in Charlotte might as well be the Triassic). Good dives are rare in this town. Cherish them. 510 Briar Creek Rd., smokeyjoescharlotte.com
---
BOOZY BREAKFAST MENU
Snooze, an A.M. Eatery
Sipping mimosas and Bloody Marys at brunch is nice. Downing a watermelon margarita is better. At Snooze, you can choose from nearly two dozen early morning libations, including a Bloody Mary made with bourbon and a chai latte with coffee liqueur. How about a Moscow Mule with your eggs? You got it. It's 10 a.m. somewhere, right? 1331-A Central Ave., snoozeeatery.com
---
BEER LABELS
Resident Culture
Resident Culture debuted in 2017 as a fully formed force in Charlotte beer, in part due to the eccentric and electric branding from in-house illustrator Maryssa "GLUMP" Pickett. Her work appears around the taproom, including a prominent mural; she designed merchandise with her wild characters and distinct visual language. Resident Culture's beer labels follow suit, an example of how great taste extends beyond the liquid inside the can. 2101 Central Ave., residentculturebrewing.com
---
UNDERRATED BREWERY
Town Brewing
Town Brewing is not a Sycamore Brewing. It does not have an annual pumpkin festival or spring festival that draws hundreds or thousands. It does not brag and try to be the biggest and best brewery in Charlotte. Town Brewing is a simple, superior brewery on Charlotte's west side that serves exquisite beers in a no-frills space. It's simple, and that's what we love about it. 800 Grandin Rd., townbrewing.com
---
SPOT FOR A SURPRISE COCKTAIL
Idlewild
Just give the apothecaries behind the bar a flavor profile or your favorite liquor, and they'll create a unique potion that each time is exactly what you asked for. They're creative concoctions, liquid art, and delicious. Of course, this is a bar, so you can also order a beer or wine, but why ruin the surprise? 424 E. 36th St., Unit 2, idlewildbar.com
---
TRIVIA NIGHT
Taproom Trivia at  Sugar Creek Brewing
Alex Smith is an engineer by day, but on Tuesday nights he hosts Taproom Trivia at the Lower South End brewery. He recently took over for beloved host Mike Dries, who moved on after five years. Each tournament includes a music round, a picture round, and a final Jeopardy question. Smith says one of the most popular categories is "Movie Mashup." Clue: A woman tries to break up her friend's wedding, where two best buds are trying to pick up women. Answer: My Best Friend's Wedding Crashers. 215 Southside Dr., sugarcreekbrewing.com
---
TREND
Gaming Venues
A bar with a few flat screens doesn't ring everyone's chimes anymore; now, we crave even more entertainment and interaction to go with our drinks. At gaming venues like El Thrifty Social Club, Pinhouse, Pins Mechanical Co., and Queen Park Social, you're not confined to a barstool with mediocre wings and nachos. Order a craft cocktail or a fish taco, then go explore the pinball machines, foosball tables, vintage arcade games, and duckpin bowling. Inventive food and drinks are always a good start—but a fun night out has to come with a memorable experience, too.
---
WINE SPOT
The Bohemian: A Wine Bar
Plaza Midwood isn't a wine desert, but beer and cocktails have previously ruled the highly trafficked neighborhood. The funky yet intimate Bohemian, with a custom 12-tap Cruvinet wine dispensing system, is a vino celebration that opened last year. The team behind the Bohemian also created the nearby, beer-focused Hop Shop; each concept lacks the pretension of its peers. 1319 Pecan Ave., thebohemianclt.com
---
GAY DANCE PARTY
Twirl to the World
This dance party, which caters mostly to a male crowd, has become so popular that it now offers four: in the spring, at Charlotte Pride, at Halloween, and for Christmas. The thematic costumes are always incredibly extravagant and wonderfully elaborate. The Christmas edition, in fact, included an army of toy soldiers and a herd of reindeer. It's the kind of unifying community event that Charlotte needs more of. Also: all proceeds from the events go to a charity. twirltotheworld.org
---
PAIRING OF ANIMALS AND BEER
Mac Tabby Cat Cafe
Sure, The Dog Bar is nice, and mingling with pups at breweries is fun. But cat cafes are wild—and all for a good cause. Order a coffee or a beer at the bar at this upstairs spot in NoDa and for a fee, lock yourself in a room filled with laser pointers (upon request), feather wands, and a dozen or so kitties. If you just can't say goodbye to one, you're in luck. All the cats are up for adoption here. 3204 N. Davidson St., mactabby.com
---
BEST PLACE TO GET DRUNK ENOUGH TO CONVINCE YOURSELF YOU'RE AT CBGB IN 1976
The Milestone Club
Charlotte's a town for the built-last-week and vibeless, you say? Here's the city's rejoinder: a ramshackle hut at 3400 Tuckaseegee Road on the west side, established in 1969 and set atop a sagging floor (which served as an impromptu sleeping surface for R.E.M. circa 1981). Nirvana played here a year before "Smells Like Teen Spirit" hit. The Go-Go's (!) played here when they were still considered sort of edgy. Fifty-one years in, it's still punk AF, and it smells like exactly that. themilestone.club
---
COCKTAIL SCENE NEWCOMER
Lincoln Street Kitchen & Cocktails
Stubborn beerheads and cocktail aficionados need not settle for the others' preference for an after-work drink. The owners of Craft Tasting Room and Growler Shop, a locale near uptown known for its curatorial eye, opened a cocktail bar and restaurant that takes equal care in being a dependable joint for mixed drinks and small plates. A sliding door connects the two. 1320 S. Church St., Ste. 400, lincolnstreetkitchen.com
---
BREWERY EXPANSION
The Chamber by Wooden Robot
The Chamber is the "wood-aging facility" for Wooden Robot. The vibe is notably more adult than its contemporaries across the city but not stuffy: a walk-up window from the patio is a fun and approachable feature, while the Instagram-worthy rooftop seating added a new "NoDa" sign to announce the neighborhood from the nearby light rail station. 416 E. 36th St., Ste. 100, woodenrobotbrewery.com
---
SELF-POUR
The Studio in South End
Self-pour concepts are growing in Charlotte, and Hoppin' Brands is responsible for three: South End's Hoppin', Plaza Midwood's Pinhouse, and this project in South End. The Studio is notable for its focus on performance, with live music, magicians, comedians, and open mic nights. The ability to pour your own means you don't have to skip a song to beg for the bartender's attention. 2501 South Blvd. thestudioclt.com
---
DRAG SHOW BRUNCH
Buff Faye's Sunday Drag Show
Upstairs, Dilworth Neighborhood Grille is the place to take your family for a burger and wings on game day. But two Sundays a month, head downstairs for an all-you-can-eat brunch buffet and Queen Buff Faye's drag show. See big hair, high heels, gaudy jewels, and fabulous makeup as these queens put on shows like "Diznee Princess," "The Golden Gurls," and "PussyCats MeWOW." And remember Buff Faye's three simple rules: drink the magic water (mimosas), scream and holler (because the drag queens need to hear you yell), and share your dollar bills (because these queens need tips and appreciation). 911 E. Morehead St.
VOTERS' CHOICE
DRINKS

Local Brewery
Olde Mecklenburg Brewery
(Runner-Up)
Wooden Robot
---
Sports Bar
QC Pour House
(Runner-Up)
Ed's Tavern
---
Local Distillery
Doc Porter's Distillery
(Runner-Up)
Great Wagon Road Distilling Company
---
Rooftop Bar
Merchant & Trade
(Runner-Up)
Fahrenheit
---
Wine List
Foxcroft Wine Co.
(Runner-Up)
Dilworth Tasting Room
---
Craft Cocktails
Dot Dot Dot
(Runner-Up)
The Crunkleton
---
Nightclub
Roxbury
(Tie)
Soul Gastrolounge
(Tie)
Lost & Found
---
Bartender
Andrew F. Uriarte
Dot Dot Dot
(Runner-Up)
Brittany Kellum
Fin & Fino
---
Happy Hour
Brewers at 4001 Yancey
(Runner-Up)
Hef's Bar and Grill
original article via Charlotte Magazine